Four new Down Under TV programs premiere in the US in February, and an acclaimed Aussie legal drama will begin streaming again for your viewing pleasure.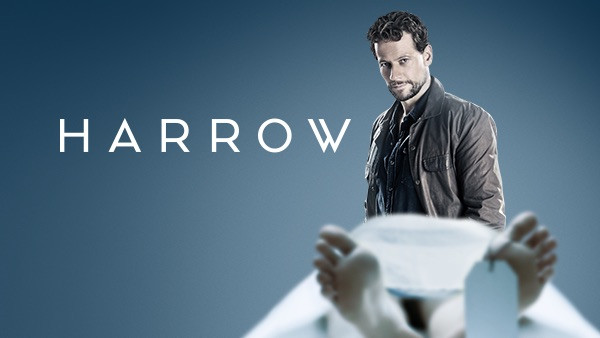 For updates about shows from Australia and New Zealand added to US linear TV and streaming channels throughout the month, see the Down Under TV Viewing Guide.
Programs and dates are subject to change without prior notice.
Videos below may contain content that is not suitable for everyone.
NATIONAL PREMIERES
Harrow: Season 3 (Australia)
He's back! He, of course, is Dr. Daniel Harrow, the brilliant, unorthodox, and cheeky forensic pathologist played by Ioan Gruffudd (Liar, Forever) in this mystery-crime drama, a Most Outstanding Drama Series nominee at the 2018 Logie Awards.
The 10-episode new season opens with a young man who claimed to be Harrow's son turning up dead. But is Harrow really the father of the deceased? As he pursues the truth in a host of cases that cross his desk (rather, his examination table) with his usual disregard for authority and his unfailing empathy for the dead, Harrow is also driven to unravel the mystery of his supposed son and finds himself entangled in a dangerous criminal underworld. Then when those closest to him are threatened, Harrow faces an impossible choice to save the people he loves.
(Video is from Season 2)
Returning cast members include Ella Newton (SeaChange), Damien Garvey (Jack Irish), Darren Gilshenan (No Activity), Hunter Page-Lochard (Cleverman), Jolene Anderson (All Saints), and Faustina Agolley (The Secret Life of Us). Joining the cast are Harrison Gilbertson (Picnic at Hanging Rock) and Miriama Smith (The Dead Lands). And guest stars in Season 3 include Diana Glenn (Secrets & Lies), Roz Hammond (Five Bedrooms), Finn Little (Reckoning), Kestie Morassi (Home and Away), and Sara Wiseman (A Place to Call Home).
Harrow Season 3 premieres in the US on Sunday, February 7, exclusively on Hulu.
UPDATE: The Harrow S3 premiere date has been moved to Monday, February 8.
There Is No "I" in Threesome (New Zealand)
This documentary is about a New Zealand couple — Jan Oliver Lucks, the film's director, and his fiancée Zoe — who decide to open up their relationship, and explores "the expectations between couples and if monogamy is truly for everyone." For further details, read this article.
There Is No "I" in Threesome, a Max Original documentary, begins streaming on Thursday, February 11, exclusively on HBO Max.
The Luminaries (UK-New Zealand)
Based on the Man Booker Prize-winning novel of the same name by Eleanor Catton, this mystery drama opens in 1865 and sees Anna Wetherell (Eve Hewson, The Knick) traveling to New Zealand to forge a new life during the gold rush. On the last day of her voyage, a romantic first encounter with Emery Staines (Himesh Patel, EastEnders) fills her with great expectations for what lies ahead. But scheming fortune-teller Lydia Wells (Eva Green, Penny Dreadful) lays a trap to ensure the planned rendezvous between the young lovers never takes place. However, the bond between Anna and Emery is more than affinity; they are "astral twins" — born at the same instant and under the same sky, which means they share a single destiny.
Deceived, swindled, and betrayed, and with her fortunes beginning to fall, Anna is drawn into an elaborate blackmail plot involving opium, gold, shipwreck, fraud, and false identity, which ultimately finds her framed for murder and fighting for her life. When Emery vanishes without a trace, Anna is left without an alibi for a murder she did not commit, and the noose of the plot begins to tighten around her.
The 6-episode limited series features Marton Csokas (Into the Badlands), Ewen Leslie (The Cry), Erik Thomson (800 Words), Callan Mulvey (Mystery Road), Matt Whelan (The Sounds), Joel Tobeck (One Lane Bridge), Gary Young (Secret City), and Mark Mitchinson (The Gulf).
The Luminaries premieres in the US on Sunday, February 14, at 9:30 PM ET/PT, on Starz.
Playing For Keeps: Series 2 (Australia)
Opening six months after the events in Series 1, the new season of this addictive drama finds the wives and girlfriends (aka WAGs) of the members of the Southern Jets Football Club dealing with new dramas, scandals, and controversies, as well as new roles both within and outside of the club. What's more, there's a new WAG amongst them…
(Video is from Series 1)
Returning for this final season are Madeleine West (Neighbours), Annie Maynard (Dead Lucky), Cecelia Peters (The Wrong Girl), Olympia Valance (Neighbours), Isabella Giovinazzo (Home and Away), Kevin Hofbauer (Offspring), George Pullar (A Place to Call Home), Jeremy Lindsay Taylor (Romper Stomper), Jackson Gallagher (Home and Away), and Ethan Panizza (The Doctor Blake Mysteries).
Playing For Keeps: Series 2 premieres in the US with its first episode (of 8) on Thursday, February 18, exclusively on Sundance Now and its digital channels, including Sundance Now on Amazon Channels. New episodes will debut weekly.

NON-PREMIERE PROGRAMS BEING ADDED TO STREAMING SERVICES
Love My Way: Series 1-2 (Australia) (rescheduled from January)
This critically-acclaimed, award-winning drama follows a group of 30-somthings in Sydney as they deal with work, relationships, parenthood, and others of life's ups and downs. Amongst them is Frankie Paige (Claudia Karvan, Newton's Law), who juggles family obligations with being successful at love and fulfilled at work, all in the hope that happiness might occur if all those things fall into place.
Costarring Asher Keddie (Offspring), Brendan Cowell (The Borgias), and Dan Wyllie (Secret City), Love My Way: Series 1 begins streaming Monday, February 1, followed by Series 2 on February 22, on Acorn TV and its digital channels, including Acorn TV on Amazon Channels.
The Circuit: Series 1-2 (Australia)
An Australia Film Institute nominee for Best Television Drama Series, this drama follows members of the Kimberley Circuit Court — a magistrate and an entourage of court officers and lawyers — who go on a regular 5-day, 2000-km roundtrip to dispense justice within the remote communities of north Western Australia.
For Drew Ellis (Aaron Pedersen, Mystery Road, Total Control), the newly-hired Aboriginal lawyer, the job is tougher than it is for others. With his White upbringing and White wife, he realizes that one law for the Black and White communities means justice isn't always fair. Along the way, he also starts to learn about himself, embarking on a journey of self-discovery that allows him to finally acknowledge his heritage and the family he never knew.
Costars include Gary Sweet (Bloom), Kelton Pell (Pine Gap), Tammy Clarkson (Ready for This), Marta Kaczmarek (Rake), and Nick Simpson-Deeks (Winners & Losers).
The Circuit: Series 1-2 begins streaming Monday, February 15, on Acorn TV and its digital channels, including Acorn TV on Amazon Channels.
The Cry (UK-Australia)
The 2019 AACTA Award winner for Best Miniseries, this 4-part psychological thriller is adapted from Helen FitzGerald's novel of the same name and stars Jenna Coleman (Victoria, Doctor Who) and Ewen Leslie (Safe Harbour, Top of the Lake) as Joanna and Alistair, a couple whose infant son disappears while they are in Australia to visit family and to fight for custody of his daughter from his previous marriage.
The apparent abduction of their child is the catalyst for a journey into Joanna's disintegrating psychology, as she and Alistair are forced to deal with an unthinkable tragedy in both their private lives and under the glaring white light of public scrutiny.
Costarring Asher Keddie (Offspring) and Alex Dimitriades (The Principal), The Cry begins streaming Monday, February 22, on Acorn TV and its digital channels, including Acorn TV on Amazon Channels.

__________________
Did you miss any of the new shows from previous days, weeks, or months? Check the Down Under TV Viewing Guide and Archives to find out.
__________________
For details about the February premieres of shows from the UK, Canada, and Ireland, visit The British TV Place. For info about the debuts of original-language, English-subtitled programs from Europe, visit The Euro TV Place.
__________________
Ads & affiliate links on this blog allow us to earn income from qualifying actions and purchases (at no extra cost to you).

Share this post/page.

Aussie & Kiwi TV: US Premieres in February 2021