Two new series from Australia premiere in the US in March, while a much-loved, fan-favorite series from New Zealand returns with a new season.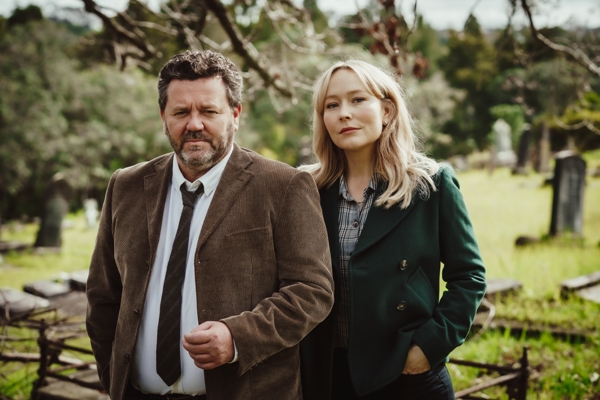 For updates about shows from Australia and New Zealand added to US linear TV and streaming channels throughout the month, see the Down Under TV Viewing Guide.
Programs and dates are subject to change without prior notice.
Videos below may contain content that is not suitable for everyone.
NATIONAL PREMIERES
Making Their Mark (AU)
This seven-part docuseries takes viewers into the world of Australia's top national sport — Australian rules football, aka "footy" — by going behind the scenes with six iconic individuals from six teams in the Australian Football League (AFL), including players, coaches and executives, as they make their way toward the 2020 Grand Final.
Making Their Mark, an Amazon Original series, premieres in the US on Friday, March 12, exclusively on Prime Video.
The Gloaming (AU)
Filmed entirely in Tasmania, Australia, this crime drama sees two cops who share a tragic past — Detective Molly McGee (Emma Booth, Glitch, Underbelly) and Detective Alex O'Connell (Ewen Leslie, The Cry, Top of the Lake) — team up to investigate the brutal slaying of a woman. As they delve deeper into the harrowing investigation, they find that clues surrounding her death are connected to murders both past and present. Meanwhile, political corruption and shady business dealings are becoming entwined with sinister crimes and occult practices. Ultimately, the fate of Molly and Alex is coerced by the ghosts of the unsettled dead that linger in the liminal space between life and death, aka the gloaming.
Costars in the eight-episode series include Martin Henderson (Grey's Anatomy), Aaron Pedersen (Mystery Road), Rena Owen (Siren), Josephine Blazier (True History of the Kelley Gang), and Matt Testro (Nowhere Boys).
The Gloaming premieres in the US on Sunday, March 21, on Starz across all platforms, including Starz on Amazon Channels, as well as on the Starz linear channel at 9 PM ET.
The Brokenwood Mysteries: Series 7 (NZ)
One of our absolute favorite crime-solving teams will be back to unravel more gnarly murder mysteries in the not-so-sleepy Kiwi town of Brokenwood. In six new feature-length, standalone stories, it's a good bet that Detective Senior Sergeant Mike Shepherd (Neill Rea, Go Girls) will talk to the dead, Detective Kristin Simms (Fern Sutherland, The Almighty Johnsons) will do a deep dive for clues, Detective Constable Sam Breen (Nic Sampson, The Luminaries) will have an awkward moment while making inquiries, and medical examiner Dr. Gina Kadinsky (Cristina Serban Ionda, Filthy Rich) will give Mike the details of her forensic findings with a touch of Russian humor. (Video is from Series 6)
The Brokenwood Mysteries: Series 7 premieres in the US with its first episode on Monday, March 29, exclusively on Acorn TV and its digital channels, including Acorn TV on Amazon Channels. New episodes will debut weekly through May 3.

NON-PREMIERE PROGRAMS BEING ADDED TO STREAMING SERVICES
Love My Way: Series 3 (AU)
This critically-acclaimed, award-winning drama follows a group of 30-somthings in Sydney as they deal with work, relationships, parenthood, and others of life's ups and downs. Amongst them is Frankie Paige (Claudia Karvan, Newton's Law), who juggles family obligations with being successful at love and fulfilled at work, all in the hope that happiness might occur if all those things fall into place. (Video is from Series 1)
Costarring Asher Keddie (Offspring), Brendan Cowell (The Borgias), and Dan Wyllie (Secret City), Love My Way: Series 3 begins streaming Monday, March 8, on Acorn TV and its digital channels, including Acorn TV on Amazon Channels.
The Strange Calls (AU)
Toby Truslove (Ms Fisher's Modern Murder Mysteries, Bad Mothers) stars in this part oddball comedy-part mystery series as Toby Banks, a hapless city cop who gets transferred to the sleepy beach-side town of Coolum, where he works the night duty desk. Assisted by night security man Gregor (Barry Crocker, Housos), Banks investigates locals' late-night calls and in the process discovers moments of midnight madness that reveal the bizarre truth of the town: it's a place where people turn into chickens, where mermen go to the school dance, and where a mysterious radio jingle can transform you into a lawn-mowing zombie.
Featuring Patrick Brammall (No Activity) and Katherine Hicks (Rescue Special Ops), The Strange Calls begins streaming Monday, March 8, on Acorn TV and its digital channels, including Acorn TV on Amazon Channels.
The Gods of Wheat Street (AU)
From the producers of Miss Fisher's Murder Mysteries comes this six-episode drama, which follows the lives of the Freeburns, an Australian Aboriginal family. Kelton Pell (Pine Gap) leads the cast as Odin Freeburn, the head of the family, with Lisa Flanagan (Glitch), Shari Sebbens (The Heights), Bruce R. Carter (Picnic at Hanging Rock), Mark Coles Smith (The Circuit), Rarriwuy Hick (Wentworth), Miah Madden (The Unlisted), and Ursula Yovich (Mystery Road) amongst the main cast.
The Gods of Wheat Street begins streaming Monday, March 29, on Acorn TV and its digital channels, including Acorn TV on Amazon Channels.

__________________
Did you miss any of the new shows from previous days, weeks, or months? Check the Down Under TV Viewing Guide and Archives to find out.
__________________
For details about the March premieres of shows from the UK, Canada, and Ireland, visit The British TV Place. For info about the debuts of original-language, English-subtitled programs from Europe, visit The Euro TV Place.
__________________
Ads & affiliate links on this blog allow us to earn income from qualifying actions and purchases (at no extra cost to you).

Share this post/page.

Aussie & Kiwi TV: US Premieres in March 2021