May 2021 brings to stateside viewers two new Aussie series and new seasons of two shows from Australia and New Zealand.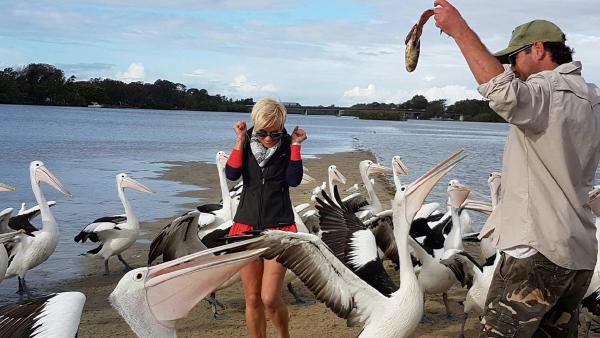 For updates about shows from Australia and New Zealand added to US linear TV and streaming channels throughout the month, see the Down Under TV Viewing Guide.
Programs and dates are subject to change without prior notice.
Videos below may contain content that is not suitable for everyone.
NATIONAL PREMIERES
Escape from the City: Season 1 (AU)
In this Aussie version of the UK reality series Escape to the Country, hosts Jane Hall, Simon Marnie, Bryce Holdaway, Del Irani, and Dean Ipaviz guide families, couples, and individuals through their life-changing decisions to escape the city and move to coastal, country, or regional Australia. A timely how-to guide packed full of expert advice and industry insights for those seeking a different way of life, the show follows the soon-to-be "escapees" as they visit local attractions to get a feel for the area they plan to move to.
Escape from the City: Season 1 premieres in the US on Tuesday, May 25, on Hulu.
Farmer Wants a Wife: Seasons 7-10 (AU)
Another localized version of a British series is this reality dating show, which follows six farmers each season (five in Season 10) as they meet, date, and woo their would-be wives, who will live on the farm with their rural Romeos.
Farmer Wants a Wife: Seasons 7-10 premieres in the US on Tuesday, May 25, on Hulu.

Mr Inbetween: Season 3 (AU)
In the third and final season of this critically-acclaimed, award-winning, fan-favorite crime drama (one of my favorite new shows of 2018), series creator, writer, and star Scott Ryan returns as antihero Ray Shoesmith — a loving father, a good friend, and a reliable criminal for hire — whose chaotic life continues to implode.
The complex world that Ray inhabits has gotten smaller, certainly emptier since he lost his brother. As Ray quietly mourns, he is figuring out how to care for his aging father, Bill (Kenny Graham, Chopper), while his daughter, Brittany (Chika Yasumura), now growing into a young woman, draws further away from him and comes closer to discovering the truth about who Ray really is. On the brighter side, things seem good with best mate Gary (Justin Rosniak, Packed to the Rafters) and contemporary Dave (Matt Nable, The Sounds).
However, since he severed ties with former boss and confidant Freddy (Damon Herriman, Lambs of God), Ray has been working freelance and feeling a sense of isolation. Business, though, is booming, and with it comes more than he had imagined. A new connection with criminal kingpin Rafael (Jeremy Sims, Fireflies) intensifies Ray's struggle, and when sparks fly with new colleague Zoe (Emily Barclay, Glitch), an unexpected tragedy makes Ray question both his career trajectory and his ethics.
Mr Inbetween: Season 3 premieres in the US on Tuesday, May 25, at 10 PM ET/PT, on FX, which launches the final season with two back-to-back episodes. New episodes in the nine-episode season will debut weekly, and all episodes will be available for streaming on FX on Hulu the day after their initial broadcast.
The Gulf: Season 2 (NZ)
Following the events in Season 1 that left D.S.S. Jess Savage (Kate Elliott, Wentworth) with severe memory loss, a dead husband and more, the new season finds her remembering certain things. Devastating things. She also takes on a new case: the abduction of Spencer Marris (Glen Levy, Westside), the husband of Jess's old school friend, Lisa (Serena Cotton, The Brokenwood Mysteries). What's more, Jess begins getting calls — from her dead husband's phone — and she herself is now a target…
Returning cast members include Ido Drent (Offspring) as D.S. Justin Harding, Ross Brannigan (Dear Murderer) as Sen. P.C. Paul "Pup" Phillips, Alison Bruce (One Lane Bridge) as Sen. Sgt. Denise Abernethy, Timmie Cameron (Shortland Street) as Jess's daughter Ruby, Dahnu Graham (Vegas) as A.J. Jackson, Mark Mitchinson (Mystery Road) as D.I. Ivan Petrie, and Simon Prast (Go Girls) as Justin's father Adam.
Joining the Season 2 cast are Vinnie Bennett (The Bad Seed), Madeleine Adams (Mystic), Fasitua Amosa (Harry), Mirabai Pease (Head High), Sara Wiseman (A Place to Call Home), and Romy Hooper (Nothing Trivial).
The Gulf: Season 2, premieres in the US on Thursday, May 27, exclusively on Sundance Now and its digital channels, including Sundance Now on Amazon Channels.

__________________
Did you miss any of the new shows from previous days, weeks, or months? Check the Down Under TV Viewing Guide and Archives to find out.
__________________
For details about the May premieres of shows from the UK, Canada, and Ireland, visit The British TV Place. For info about the debuts of original-language, English-subtitled programs from Europe, visit The Euro TV Place.
__________________
Ads & affiliate links on this blog allow us to earn income from qualifying actions and purchases (at no extra cost to you).

Share this post/page.

Aussie & Kiwi TV: US Premieres in May 2021